We had never heard of a "day of coordinator" before our wedding. Initially we wondered if we needed one because we were planning a small and short, backyard wedding with less than 25 family members. Luna y Sol delivered that and more! They made our vision an absolute reality.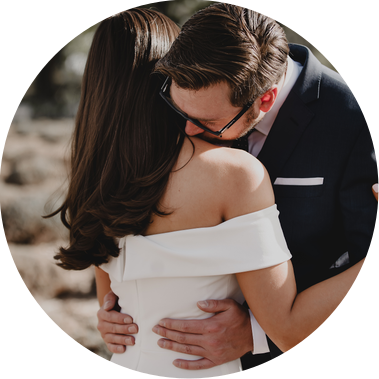 In the weeks leading up to our big day, they got to know every last detail of our dream wedding, our vendors, decor, schedule, details, design, hopes, and dreams. They studied our timeline and helped us re-work it so that we could maximize our time spent with our guests. They helped set up and run our rehearsal dinner for us which was a big load off of us the day before our wedding! On the day of the wedding every detail was accounted for.
We'll never forget walking down the aisle and seeing our backyard for the first time with of everything set up! We loved walking around and seeing all of the sweet touches Luna y Sol curated with our decorations and some of their own. Chris did the most beautiful calligraphy for our place cards and favors sign! Our parents and families were able to help us get ready without the stress and burden of setting up and running the show, too. We look back on our wedding with the happiest and sweetest of memories because everything was coordinated so well.
We absolutely needed and valued our day of coordination even for a small backyard wedding. We strongly recommended collaborating with Luna y Sol to make sure all of the hard work you have put into planning your wedding pays off with the most perfect day.
With lots of love,
Annie and James
Photos by Claire Gutierrez Photography
Luna y Sol was amazing. Everything they did the day before and the day of the wedding was beautiful
from the decorations to the timeline of keeping everything flowing smoothly. Their expertise on table arrangements to flowers was what my daughter wanted and got. I definitely recommend Luna y Sol my husband and I were able to enjoy the wedding without having to stress over all the details because Teresa and Claire took care of everything.
- Mother of the Bride
Jewel tone perfection
Claire and Teresa made our day perfect! They were so professional and pleasant to work with. They perfected our vision. Highly recommend this mom and daughter duo.
-Noel M
Photos by Claire Gutierrez Photography